The lively and electric city of Dallas, TX, has a total population of approximately 1.34 million residents who enjoy the vast amenities and entertainment the area has to offer. There truly is something for everyone in any season. Dallas is home to numerous charming neighborhoods, from Oak Cliff to Preston Hollow to Lake Highlands. No matter where you choose to hang your hat, the Dallas area is full of exciting festivities to ring in the autumn spirit.

If you're looking to invest in the Dallas real estate scene, whether you're looking at Lake Highlands real estate or Lakewood as your next home, here are some fun, exciting, and different activities to indulge in once fall arrives.
Hiking
Photo courtesy of Audobon Dallas
If you're a nature enthusiast who can't get enough of the great outdoors, you will find your place in Dallas in the fall, when the leaves turn from green to red, yellow, orange, and brown and the air turns crisp. Enjoy the fantastic fall weather with some excellent hiking spots. Within a 100-mile radius of the city and Lake Highlands real estate, visitors and residents alike can take in the glorious colors of the season. A little closer to home, outdoor enthusiasts can drive about 15 miles to
Cedar Ridge Preserve
on Mountain Creek Parkway, where you can hike, walk, admire the wildlife, and just enjoy nature on the 603 acres of the stunning landscape.
With nine miles of fantastic trails, including Cattail Pond, Fossil Valley, and Cedar Brake, this is a great park to take in the fresh autumn air and enjoy the views of nature. Bird-watching is also popular here, with an array of Eastern Bluebirds, Painted Buntings, Goldfinches, and more. It truly is a sight to behold. Dogs are also allowed, as long as they're leashed and curbed.
Beer gardens
Dallas is also famous for its beer gardens. In hot, humid weather—and even in cooler periods of fall—they're a perfect place to sit for a spell and replenish your dehydrated body. Beer gardens are all about community, music, fun, and hearty food and drink.
At the
Texas Truck Yard
, visitors can enjoy a Philly cheesesteak sandwich or nachos, along with craft beers, wine, and cocktails.
The Rustic
is an upscale eatery that offers an amazing weekend brunch along with lunch and dinner. Here, you'll get to indulge in smoked cheddar grits and Nashville-style crunchy fried chicken, while the regular weekday lunch menu offers delectable fare, including shrimp and avocado salad and a chipotle salmon burger.
Attend a football game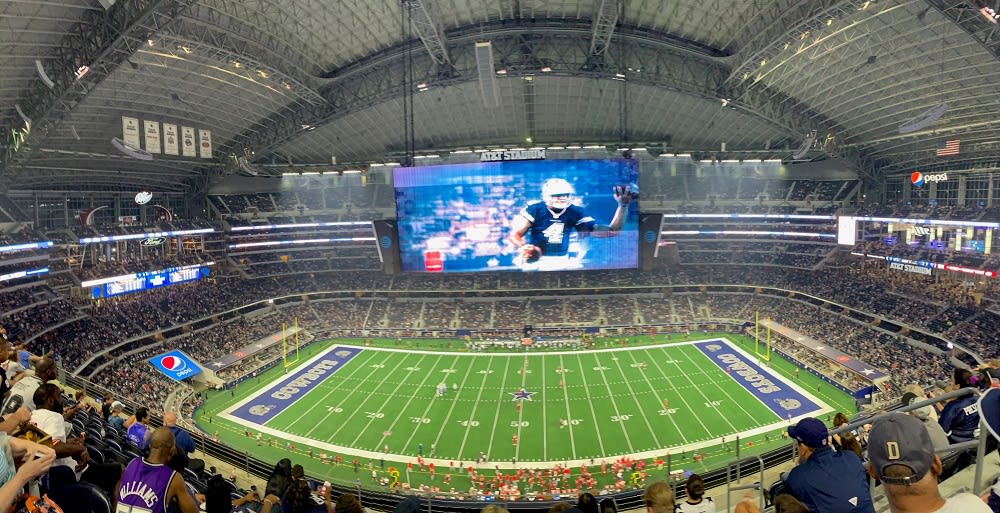 Photo courtesy of Stadium Journey
The world-famous, five-time Super Bowl champion Dallas Cowboys are based in Dallas at their official stadium, the
AT&T Stadium
. The official NFL season normally runs from early September through late February, so there's lots of time to root for this hometown team! Buy season tickets to enjoy the festivities and be one with the incredible crowd.
Go to the races
Running is a very popular pastime throughout the Dallas area for runners, young and old. If running isn't your forte, some races offer short-distance runs as well as walks and races for kids. Two annual races are the unique and highly-rated
Monster Dash
in Fort Worth at Bluestem Park. This is a Halloween-themed 5K and 1-mile run that includes a pancake breakfast and awards ceremony. The
Dallas YMCA Turkey Trot
is a long-standing Thanksgiving tradition for runners of all ages and skill levels.
Have some Halloween fun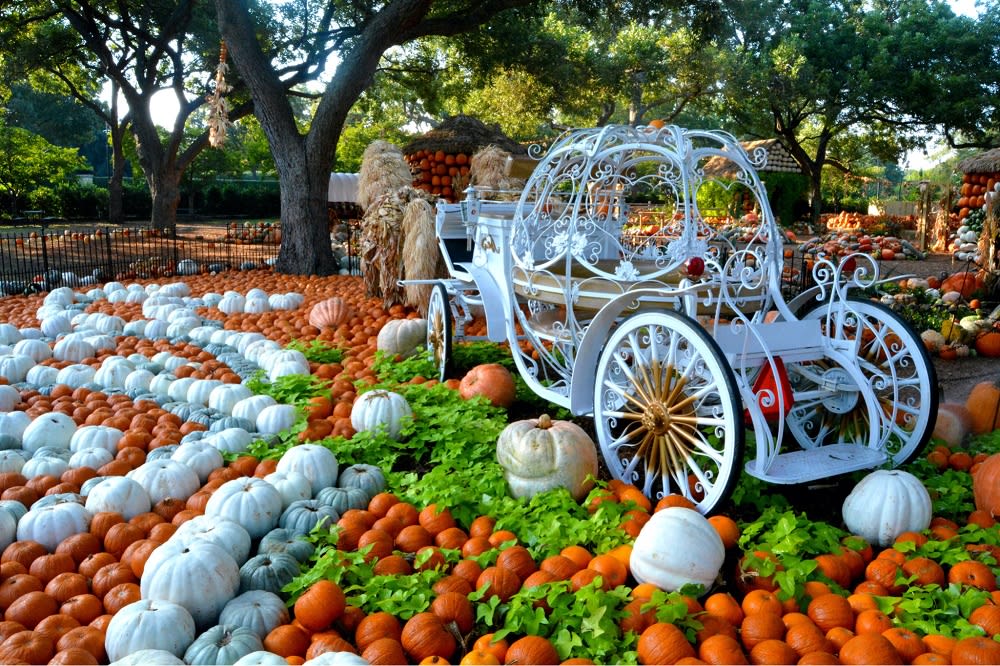 Photo courtesy of Dallas Arboretum
Set aside a day to visit what is considered to be one of the Top 15 pumpkin patches in the nation:
Dallas Arboretum's Pumpkin Village
. While visitors can't actually harvest their Halloween pumpkins here, they can purchase them onsite. With more than 100,000 pumpkins, squash, and gourds to choose from, you are sure to find your favorite. There's also a children's maze and a Cinderella-themed carriage. Nature lovers will revel in the fall flowers and foliage at every turn, and families with kids can check out the
Rory Meyers Children's Adventure Garden
inside the Arboretum.
If you are looking for scary pastimes to ring in Halloween, check out the spooky events at
Grapevine's Night Watchman Ghost Tour
, which boasts haunting events on weekend nights at the Grape Vine Springs Winery, or Fort Worth's
Cutting Edge Haunted House
in an abandoned meat packaging facility. This frightening event was voted "The Best Haunted House in the Nation" by USA Today and is also a Guinness World Record holder.
Enjoy the fairs and parades
As the saying goes, "Everything's Bigger in Texas," and its fairs are no exception. Near Lake Highlands real estate is the
Texas State Fair
. Here, visitors can turn back the clock and enjoy good old-fashioned fun on a giant Ferris wheel, heart-stopping rides, rodeo performances, arcade games, and live music. The state fair runs from late September through the first three weeks of October.
The
Dia de Los Muertos Parade
—which translates from Spanish meaning "Day of the Dead"— is a parade that coincides with the American tradition of Halloween. In the Mexican culture, however, Dia de Los Muertos is meant to celebrate and honor the memories of loved ones who passed. The event features performing horses, gauchos, Mariachi bands, arts and crafts for the kids, and great food. Now in its third year, the parade continues to be a huge favorite in the community.
Plan a night (or day) at the museum
Not only does the
Dallas Museum of Art
(DMA) boast incredible exhibits, it offers free art activities for children each Saturday at the facility's "Pop-Up Art Spots." It's a great way to keep the kids entertained while the adults view the latest exhibits. The museum contains nearly 25,000 objects that date from the third century BC, and the Mildred R. and Frederick M. Mayer Library holds more than 50,000 volumes. The DMA occupies about 159,000 square feet of exhibition space and is one of the largest museums in the nation.
Ready to get started?
If you'd like to break into the Dallas real estate scene, the
Paige Whiteside & Brianne Eager Group
is the team you need on your side. From Lake Highlands homes for sale to east Dallas real estate, this is an incredible team with all the insider knowledge to find the home of your dreams. Contact them today to get started!

*Header photo courtesy of Unsplash